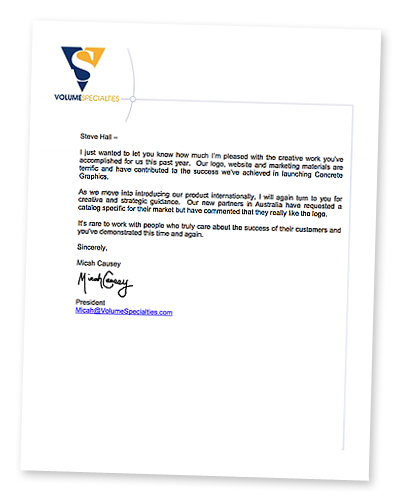 From a Marketing Executive:
"I've had the pleasure of working closely with Steve Hall for 16 years. His skill set is so embracive and his sheer production output so great that I would be hard pressed to describe or even list the full gamut of work Steve produced in that period of time. What I can honestly say however is that in all the years Steve worked on marketing campaigns, promotion and literature, as well as visual merchandising and displays for hundreds of products, his work was uniformly phenomenal. As a campaign manager, I experienced huge increases in sales when Steve led the creative team, writing the copy, even directing the design. Steve's creativity and thought processes were always above everyone else's when it came to producing a return on the advertising dollar. It is a fact that Steve knew who he was marketing for and the various publics to be reached and wrote according to demographics and surveys. I can fully attest that while Steve and I worked together breaking sales records was routine. That's what the game is all about and Steve plays it phenomenally well." Y.L.
From Corporate Issue Authority:
"For many years I was the sole authorizing authority for a multinational corporation with thousands of offices in more than 100 countries. Steve was our "go-to" guy for all matters creative. He was the architect for our marketing strategy in countless campaigns involving scores of products and services translated into some 15 languages. From TV spots to collateral, to PR and marketing videos, brochures to trade show booth designs, his talents and expert competence spanned the gamut. His campaigns routinely smashed sales goals and brought highest-ever ROI. His creative abilities never failed to impress and frankly, his merchandising creations were always complete knockouts. Every campaign that Steve created for us was high quality, genuine and above all successful." M.L.
From a CEO:
"I started a new business last spring and turned to Steve for all our marketing needs. Steve created a darling logo that gets positive feedback wherever I go. For the website, he again went above and beyond my expectations to research the subject in depth and created not only a marketing website, but an informational and educational masterpiece. Steve launched our website with full search engine optimization (SEO) getting us on PAGE ONE of Google, Yahoo and MSN within a month. Two weeks later we had nearly doubled our number of customers. The beautiful thing is he's not 'just' a designer or 'just' a writer. He's not just 'part' of the solution. He does it all. He took the time to study my business then used his expertise as a writer to create rich content. In fact, he went from knowing nothing about the subject, to teaching me things about my own business that even I didn't know! Today, people who see our website rave about its quality and how much they learned from it, even including my government contacts. I couldn't be more pleased. Steve's creative services have delivered a significant return on the investment." E.E.
From an Author:
"Steve and I worked together for years writing copy and working on marketing campaigns. For me, this was brain-breaking work, which I've since given up. But for Steve, it never seemed like work. He seemed to have a limitless supply of ideas that he could pull from some brightly lit, creative recess. Steve would say, here's another. And another. Though I should have, I never dug too deeply into the process Steve employed. In fact, I am hard pressed to recall any conversations at all about actual work. It seems we were always talking about music or mysterious phenomena or the state of the world or another of the endless topics about which he was interested or conversant. Steve is one of those guys with one foot firmly planted on the ground and another foot planted wherever his creative Muse leads him. I know one thing for sure, his ad campaigns and creative strategies always seemed effortless to me. When nobody's looking, he may be wracking his brain, because he is diligent, and the end result carries an air of effortless competence. But he's insouciant enough that you don't hold it against him. Creative people should look forward to the day when they publish the code of Steve's genome." D.K.
From a Commercial Artist & Writer:
"I have known and worked with Steve Hall for over 15 years, and keep working with him for two reasons: he's extremely creative, and he delivers what he promises -- and then some. If you want high-quality work done in a timely fashion, Steve is one of the best in the business." A.G.
From a Company President:
"We have been so pleased with Steve's work. Steve is creative, but always within the boundaries of being practical. He seems to be able to understand our products from our customer's point of view. We are very glad we hired him for our catalog layout." 

J.N.
From a Graphic Designer and Illustrator:
"In have had the pleasure of working with Steve on a number of marketing campaigns for over a decade. Our cooperation has spanned quite a variety of campaigns and publications from posters, brochures and newspaper ads to articles in books and magazines, as well as displays. As a graphic designer and illustrator I find it invaluable that Steve has a strong visual sense. Making words and images work together is the crux of any successful campaign. Working with Steve is rewarding for a graphic artist, for he is an idea and image man. Everything he does forwards a single goal: creating just the right image for the product, company or service. It wouldn't be correct to say he is right in step with the visual side of the product, for he is usually a step ahead of it. More often than not, the selection of photography, images and illustrations has sprung right from his copy which always evokes strong visual imagery. Whether the project has required a serious approach or a humorous one, I can always rest assured it will be witty and creative, catchy and to the point. To me Steve's writing is a blend of creative association, the unexpected and sometimes even the outrageous – and yet it always, almost magically, hits the right target. I know that whether the product we marketed needed just one word to describe it or a thousand, Steve would find the right ones. And sometimes the right word is worth a thousand pictures." K.K.
From a Company President:
"I just wanted to let you know how much I'm pleased with the creative work you've accomplished for us this past year. Our logo, website and marketing materials are terrific and have contributed to the success we've achieved in launching Concrete Graphics. As we move into introducing our product internationally, I will again turn to you for creative and strategic guidance. Our new partners in Australia have requested a catalog specific for their market but have commented that they really like the logo. It's rare to work with people who truly care about the success of their customers and you've demonstrated this time and again." M.C.
From a Board Member:
"Steve kindly offered his creative skills on a pro bono project for the Dallas Area Paralegal Association. As a non-profit organization without a large marketing budget we needed artwork to promote our 2007 Career Day, and Steve volunteered his time to our cause. Steve turned around a clever, eye-catching piece of artwork for use on our promotional materials that helped make it our best-attended event ever." M.D.
---

Steve Hall Creative is a Dallas web design company, that specializes in designing, developing, and deploying top quality websites. If you a need web site, Internet marketing or SEO services we can help you reach your goals. Steve Hall Creative will provide you with stellar results that get your business noticed. Please feel free to give us a call at 214-828-9334.
Dallas Web Design by Steve Hall Creative – Brilliant Strategies, Wicked-Cool Creative, Solid Results.
Steve Hall Creative provides web design services for Dallas, Ft Worth, McKinney, Frisco, The Colony, Lewisville, Flower Mound, Grapevine, Coppell, Carrollton, Irving, Grand Prairie, Arlington, Plano, Allen, Richardson, Wylie, Lucas, Murphy, University Park, Highland Park, Garland, Mesquite, Rowlett, Rockwall, Forney, Terrell, Celina, Prosper, Gunter, Sherman, Denison, Howe, Van Alystine, Anna, Melissa, Farmersville, Paris, Bonham, Sulpher Springs, Commerce, Greenvilleand more including nearby states.