Photography by Steve Hall
"I swear to God I'll shoot!"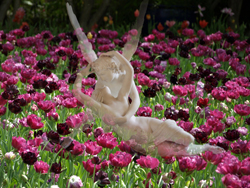 I'll even get rid of age spots and wrinkles if you want.
Photographic services are available at either a day or an hourly rate. Photoshop is necessary to get the best out of a photo by adjusting size, resolution, color, contrast, sharpness or blur, and crop. Photoshop retouching is also available for special effects such as removing wrinkles, age spots, scars and distractive elements in the background such as telephone wires and road signs.
Equipment
I shoot with an Olympus E-510 with multiple Zuiko lenses (rated as the best overall image quality of any camera in its class including Nikon),  professional lighting equipment and backgrounds. I do my Photoshop work on a gigantic 24" Macintosh screen using the Adobe CS4 Creative Suite.
What is photography?
Photography is literally the art of drawing with light < Greek photos light, and graphein to write or record. Light is everything in photography. A painter pushes around paint. A sculpture pushes around clay. A photographer pushes around light. So yes, photography is art and that's why. Lighting is a fundamental along with framing and split second timing. Framing is all about composition, it includes camera angles, zoom and balance. The rule is exclude anything that does not contribute to the message and include everything that does contributes to it. The keynote of framing is choice. The photographer has to create the best angle, i.e. the angle that will best communicate the message of the shot. One has to be poised and ready to get "The Shot" in an instant. That means watching like a hawk, for The Shot is ephemeral: it appears and vanishes in seconds, sometimes when you least expect it, sometimes never to return. The Shot happens in that instant of time when expression and form combine with the photographer's choices of light, shadow, angle, framing, exposure and aperture to produce art. Skill comes not only in the photographer's ability to be quick enough to capture The Shot, but also to recognize when it is there in the instant when it occurs. There is much more to say on the subject, but perhaps these brief statements will begin to shed light on the art that creates with light itself.


---

Steve Hall Creative is a Dallas web design company, that specializes in designing, developing, and deploying top quality websites. We also offer professional photographic services. Steve Hall Creative will provide you with stellar results that get your business noticed. Please feel free to give us a call at 214-828-9334.
Dallas Web Design by Steve Hall Creative - Brilliant Strategies, Wicked-Cool Creative, Solid Results

Steve Hall Creative provides web design services for Dallas, Ft Worth, McKinney, Frisco, The Colony, Lewisville, Flower Mound, Grapevine, Coppell, Carrollton, Irving, Grand Prairie, Arlington, Plano, Allen, Richardson, Wylie, Lucas, Murphy, University Park, Highland Park, Garland, Mesquite, Rowlett, Rockwall, Forney, Terrell, Celina, Prosper, Gunter, Sherman, Denison, Howe, Van Alystine, Anna, Melissa, Farmersville, Paris, Bonham, Sulpher Springs, Commerce, Greenvilleand more including nearby states.