Your Website: The Ultimate Sales Force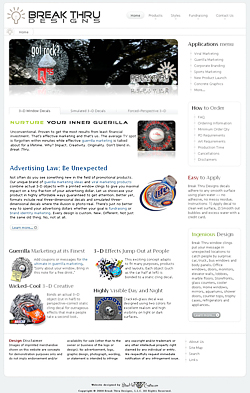 Day and night. 7 days a week. Worldwide. Your website works for you.
So it better be good.
Your website is the single best marketing investment you'll ever make. And compared to other forms of advertising, websites are cheap.
The Expertise of Web Design
Website design requires deep expertise across the marketing spectrum. Creative strategy, PR, words, design, branding and photography all work together persuasively to compel action. It adds up to an automatic sales force working 24/7 to generate sales.
Web technology changes fast and I'm on the cutting edge. All my websites utilize full state-of-the-art Content Management System (CMS) technology. Your CMS website enables you to makes changes yourself. So when you need to update prices, change product shots, or employee photographs, you can do it through a password-protected interface located in the back end of the website. A CMS website essentially has two faces, the front end is what the public sees when they go online. The back end is where you make changes in real time with familiar tools like those in Microsoft Word.
Creative Edge
There's no substitute for sound marketing judgment.  Mine is built upon a bedrock of broad professional expertise, world-class talent and superb communication skills. Throughout my career, I've worked 2 to 3 times as many hours per week as most people. So I've accumulated 2 or 3 times the hands-on experience and expertise. I'm a professional writer, designer, photographer, PR and marketing expert all in one. When I design a website, I use all those skills at once. I actually do. As a result I make the process easy for you.
Good Communication
As a creative professional, my overall specialty is communication. Problems begin where communication ends. And on the positive side, in the presence of good communication, you just don't have problems. I'm easy to work with, calm, patient and reliable; but most of all, brilliant in what I do. And a big part of what I do is listen to you. I know the business world because I've been an entrepreneur since I was 8 and currently own 4 companies. But that does NOT mean I know your business better than you.
Creative Palette

What is the exact mix of images, words, branding that will best present who and what you are online? A lot of ingredients come together to make a website. Copy (text), design, photos, videos, audio, branding, logo. Since I do it all, I don't have to outsource anything; that saves time and money, but even more importantly, it ensures you get a better product since all relevant production is guaranteed to integrate with the overall vision.
Marketing Flypaper
When people go to a website, they are normally looking for an answer to a question. But not all people have the same question. They like it when they can rapidly scan the home page and rapidly find what they are looking for. Navigation must be intuitive, clear and easy to use. Your front page needs to be as "sticky" as possible. As their eye scans headlines and images, you want it to STICK, forcing them to click on "Learn More...". Therefore what I normally do is to create a scan-able home page with lots of sticky bits to catch interest. When visitors find something interesting, they click to learn more.
Photography
My creative studio is permanently set up for product shots. While building your website, if I need an additional picture, I just turn around, shoot it, upload it, and design with it. If you need photos of your production areas or staff, I go on location with full equipment, backgrounds and lighting to get any shots we need. Usually takes a day or less.
Content is King

Online, content is king. This is what drives new visitors to the site and results in high ranking in search engines like Google. Therefore your website can incorporate both marketing information as well as a database of articles on the subject. I'm a writer, so good high-quality articles are no trouble to write. The object here is to position your website and your company as an authority. Subjects covered in subsequent pages will include features and benefits, company overview, key problems solved by your products and services, key applications, core technology, text promoting each product and testimonials.
Summary
Maybe you think that with my creative expertise, marketing knowledge, responsible expertise, coupled with my communication skills and patience that I believe I'm definitely the best all-round choice for your website design needs. That is exactly right. I'm a business owner myself and when I need creative, branding, logos, websites, SEO, catalogs, and photography I wouldn't think of using anyone else!
---

Steve Hall Creative is a Dallas web design company, that specializes in designing, developing, and deploying top ranking web sites. If you need assistance with a website, SEO services, or Internet marketing we can help you reach your goals. Steve Hall Creative will provide you with stellar results that get your business noticed. Please feel free to give us a call at 214-828-9334.
Dallas Web Design by Steve Hall Creative – Brilliant Strategies, Wicked-Cool Creative, Solid Results.
Steve Hall Creative provides web design services for Dallas, Ft Worth, McKinney, Frisco, The Colony, Lewisville, Flower Mound, Grapevine, Coppell, Carrollton, Irving, Grand Prairie, Arlington, Plano, Allen, Richardson, Wylie, Lucas, Murphy, University Park, Highland Park, Garland, Mesquite, Rowlett, Rockwall, Forney, Terrell, Celina, Prosper, Gunter, Sherman, Denison, Howe, Van Alystine, Anna, Melissa, Farmersville, Paris, Bonham, Sulpher Springs, Commerce, Greenvilleand more including nearby states.