Sculpting in 3-D
Over the years, I have designed dozens of products each beginning with a prototype. A prototype is a realistic version of the product that can be reviewed, further modified or, if perfect, used as a master from which final production molds and packaging can be created. Besides sculptural abilities, I am a skilled with various molding and casting techniques as you can see in these shots.
For example, in the photos on left, you can see a miniature whitetail deer's head I sculpted from clay. From this I made a mold, and from the mold, I cast plastic copies. In reviewing the plastic casting, the ears seemed too narrow and long. So the adjustments were made to the master, tweaking it until it was perfect. That unpainted plastic master was shipped to the factory for production along with a second painted copy for color reference. While this was going on a third casting of the deer was used for production of the clam shell packaging.
I also make voodoo dolls. (Just kidding).
Wildlife products:

Here you see an original whitetail
deer I sculpted in clay. A rubber mold
was made from the original clay.

Then from the new mold several
exact copies were cast in plastic.

Using an air brush, I painted two of
the plastic copies in realistic detail.

Next, I designed background art: the
deer's body in the wilderness.

Here you can compare the original
hand-painted master on the bottom,
and a production sample above.

This is the final product on a truck
window: a 3-D deer decal currently
for sale in Bass Pro Shop, and other
major retailers nationwide.

Seasonal products:


The task here was a series of
of seasonal products.

From the original clay masters,
a mold was created.

From the mold, a series of plastic
copies were be produced.

The plastic copy is then painted
and made into a prototype. In this
case, a 3-D decal for Halloween.
The bat's head was cast as two
pieces and then joined together.

The final plastic casting is a perfect
copy of the original master.

The plastic is then painted and
mounted to make a prototype for
review and mass production.
Sport ball products:
In this sequence, I created a series of products involving a soccer ball, basketball and football.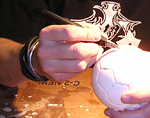 In this sequence, the original sculpture was created in plaster...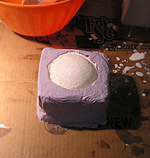 then a mold is created using silicon rubber.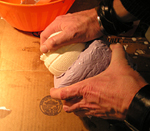 The casting is freed from the mold.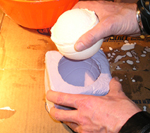 It is a perfect copy of the original.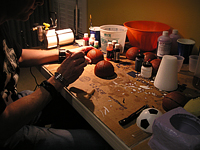 The prototype is painted using an air brush.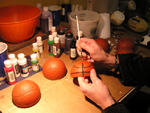 Final details are added with a paint brush.
---
Steve Hall Creative is a Dallas web design company, that specializes in designing, developing, and deploying top quality websites. If you a need web site, Internet marketing or SEO services we can help you reach your goals. Steve Hall Creative will provide you with stellar results that get your business noticed. Please feel free to give us a call at 214-828-9334.
Dallas Web Design by Steve Hall Creative – Brilliant Strategies, Wicked-Cool Creative, Solid Results.
Steve Hall Creative provides web design services for Dallas, Ft Worth, McKinney, Frisco, The Colony, Lewisville, Flower Mound, Grapevine, Coppell, Carrollton, Irving, Grand Prairie, Arlington, Plano, Allen, Richardson, Wylie, Lucas, Murphy, University Park, Highland Park, Garland, Mesquite, Rowlett, Rockwall, Forney, Terrell, Celina, Prosper, Gunter, Sherman, Denison, Howe, Van Alystine, Anna, Melissa, Farmersville, Paris, Bonham, Sulpher Springs, Commerce, Greenvilleand more including nearby states.
---