Written by Steve Hall
The 500-Year-Old Secret of Amazing Composition
While you may think visual merchandising or display is simply the art of arranging shapes in a pleasing or exciting way, there is far more to it than that. And if you really examine the subject, you will find that there are some displays (or portrayal of geometric forms in three dimensions) that really excel, that are really different.
As a professional display artist, some years ago, I made it my job to find out what was it—I'll call it, an "X" quality—about some displays that made them work so much better.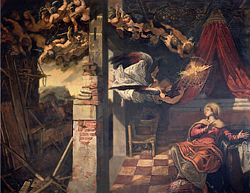 If you want to see examples of such composition you will find many in the paintings Tintoretto, the last great Venetian painter of the Renaissance. Also known as Jacobo Robusti and Il Furioso (due to the sheer speed of his robust production), his real name Jacobo Comin. Tintoretto evolved many ingenious techniques for the production of his paintings. One such technique was he created wax models of the figures used in his paintings. He arranged them and in doing so, he definitely discovered a secret of composition which -- once you know what it is -- you will see it throughout all his paintings. For example, you will see it in one of his famous works from 1518, titled The Annunciation.
A flock of cherubs spills through a window above a door, into a woman's house. But if you examine the cascade of cherubs, you will see the sort of "X" quality I am speaking about. It appears almost as an indefinable texture, richness or almost a pageant of shape that flow together, somehow unified, like a cloud, but not. One distinct characteristic of that X quality wherever you see it, is the particles seem to flow together magically, or hang together like a school of fish. Yet, each individual item stands out on its own, unlike a school of fish.
All this sounds pretty ethereal, no doubt. And you will either have reality on it or not, but if not, it is only because you have probably never examined this kind of thing before and you don't yet have an eye for it. But you will.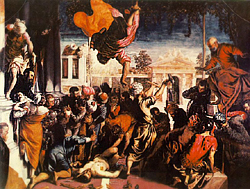 Here's another example: another painting by Tintoretto painted in 1548, entitled The Miracle of the Slave. Another crowd of bodies press together, above an unconscious slave, while St. Mark hurtles above to his rescue. If you look at the crowd, you'll notice the figures have that same X quality, as the cherubs in The Annunciation. The art critics call it, "drama"; they call it "unexpected view­points and striking perspective"; they call it this and that. And all of it no doubt true. But they don't actually know the mechanics at work here, mechanics that will produce this same X quality, with utter predictably.
The author of Art through the Ages, comes pretty close when he points out about Tintoretto's work, "...the composition is made up of contrary and opposing motions; for any figure leaning in one direction, there is another to counter it. At the extreme left a group consisting of two men and a woman with child winds contraptually about a column. The main group curves deeply back into space..." and he goes on about the various elements of the painting.
Alas, he doesn't really know what he's looking at. He can see it, but he doesn't understand what it is. I'm going to explain to you, in this essay, what it is. By learning this, your ability in the field of visual composition and display will be increased.
Tintoretto himself apparently left no explanations. Perhaps he hadn't worked it out to the point I have today. This is highly possible. In fact, I was creating this same sort of geometric phenom­ena for several years before I knew what it was. Finally, in my 9th year as one of the best apparel display artists in the world, I decided to figure out what I was doing so it could be taught to others.
Since that time, as a measure of its workability, I used this know how to create a new branch of visual merchandising called "display art." The point is that this is a technique which if applied will not only produce a result, but improve your art. These are fundamentals that underlie the field.
But first, to ensure you have a grasp on this X quality I spoke of, back to Tintoretto.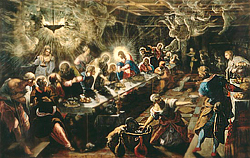 The Last Supper, painted in 1592 is another fine example. I'm using these paintings as examples, as you can see there in two dimensions, the principles at the root of how to attain art, in the medium of how you position physical items together.
In The Last Supper, note how the figures create a rich texture of motion, each integrating with the next, yet each individual interesting. The individual elements flow across, almost like fluid.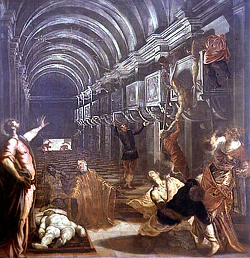 Another example is The Finding of the Body of St Mark, painted about 1562. Here in this work, especially in the three figures on the right fore­ground, you will notice a perfect example of this X quality.
If you compare these paintings with many others from the day, you'll see how static the others are by comparison. And you'll notice that the figures of Tintoretto's are generally more dynamic even through they aren't necessarily painted better.
The Basic Geometry
Any shape has a basic axis or center line, defined as "a straight line about which a body or geometric object rotates or may be conceived to rotate." (American Heritage Dictionary)
A human body has an axis that is the imaginary center line down through the center of the body. Likewise, any object has such a basic center line. If you just look at various displays, you'll notice that geometrically speaking, some displays are more pleasing than others. They're very different.
The same can be said for ''displays'' as represented in two dimensional paintings. Compare Tintoretto's compositions with that of any other Renaissance painter. Correggio comes close, but his figures don't balance against one another. Titian's figures, as with most other painters, stand straight up and down. Or they have the same central axis. Paolo Veronese's paintings have a lot of motion, like Correggio's, but again the figures don't offset one another, and thus lack harmony.
The most pleasing straight-line geometry is the "V". Other formations, like "II", "=" and "L" aren't nearly as appealing. I'm talking geometry here. As a maxim, the more V's you can work into a composition, the more appeal it has—the more people will be fascinated by it, the more there seems to look at. And when you're talking about the arrangement of figures, you're talking about the V's of their basic center lines. Look again at any of Tintoretto's works. Note how the figures "V" one against the other. But that's just the start.
V's in 3-Dimensions
I apologize for having to do this, but I must introduce a new word here, a verb: "to vee," meaning to arrange objects so that their center lines form a "V." When you are talking three dimensions, you area talking about the three basic axes (plural of axis): height, width and depth.
If you have two objects, you can arrange their center lines so they vee on all three axes at the same time.
Two rectangles of paper make this easy to demonstrate, if you hold them in your hands. If you imagine the three basic axes between these two pieces of paper, you can vee them on each of the basic axes in turn.
You can ROTATE them (each in opposite directions), which is to vee against the height axis. You can SPLIT them (each leaning out or leaning in), which is to vee against the depth axis. And you can TILT them (one backwards, one forward) which is to vee against the width axis.
But you can also vee them on any two axes at the same time. This gives three possible combina­tions (which is not particularly useful data, but I mention it in passing): rotated and split; rotated and tilted; split and tilted.
Now most display artists generally rotate and split each item. Painters too, when they compose their subjects. And that generally is as good as it gets.
Now, for what it's worth, the key is simply that you can vee two items on all three axis at the same time and you should for that's really the ideal scene. Or to rephrase your ideal scene for any two subjects is to arrange them so that they counterpoint each other on all three axes at the same time.
When I say that is your ideal scene, it's only because to me, and to others, that seems the most pleasing, and liked the best. My track on that is as a display artist, or more specifically, a 'trimmer" which is a particular type of display artist—very able—who displays clothes on wires which when viewed from a short distance, seems to make them defy the laws of gravity, and float in mid air. For a trimmer, the art is all in the three-dimensional geometric composition of the particles. A trimmer looks at an article of clothing the same way a painter looks at a tube of paint. It is a particle. An object. And his art is in the arrangement thereof.
The basic action is to place each particle in time and space. I say time, too, because time is defined as the movement of particles in space, and when you are trimming, you often place one garment above another or in series, to create a flow or apparent motion, and thus: time. If the sweep of the motion was up, the lower item would be earlier in time. A trimmer works mainly in the wholesale end of the clothing business. Trimmers can make a decent living.
That's just some background, but pertinent, so you can understand where this tech came from: it was developed by a artist who's concentration was upon placing objects, one against the other, to create the most pleasing composition: one in which all such particles could flow together, magi­cally floating in air, and yet with each item beautiful of itself, and potentially standing alone.

Tintoretto had this down cold. And perhaps that is why as a past curator of the Louvre (where some of Tintoretto's works hang), said, "Tintoretto is, with Michelangelo, the greatest painter of the Baroque; in his power of pictorial invention he perhaps surpasses any other artist in the history of painting."
What you may not know about Tintoretto is that he made models of the scenes he painted, before he painted them. In other words, he built a mockup of the room, made figures of wax and clay, and arranged them in the room in the places he wanted them to go. Then in a darkened room (at night) he held a candle in various positions to study the fall of the light across the forms. You can read more about how he painted in the Encyclopedia Britannica.
But the point is he made displays. He thought in terms of a display artist: three dimensions. And he worked as many vees as possible into his compositions, veeing any two figures in all three dimensions at once. And now you know why his paintings are so very different. In Tintoretto's The Finding of the Body of St Mark look again at the figures on the far right foreground. Specifically, the woman leaning to the right foreground, and the man who is trying to hold up the fellow who has just passed out. These two figures, the man and woman, V against each other in all three dimensions. They are rotated, split and tilted.
Spirals
There is one further way geometrically to set two items apart. And that is to twist one of them (or both) into a spiral.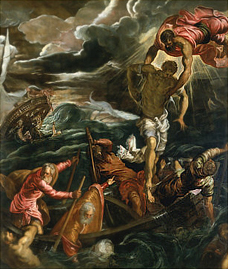 Tintoretto's work shows many varieties of this pattern. The Last Supper shows a great example of this, in the figure to the far right stepping by the maid washing dishes in the vat on the floor. The upper half of her body and the lower half of his body are juxtaposed on all three dimensions. But then the upper half of the man's body twists counter-clockwise.
It can make a dramatic effect, but inevitably when you do it, the part twisted ends up parallel­ing the other object, and this looses some of your V's. Nevertheless, it has its uses.
Most of the figures in this particular painting do spiral. And within some, there is even a fur­ther effect: two opposite spirals within one figure!
On the far left, at the end of the table is Judas. He's seated at the end of the table. His body makes a clockwise spiral, completed by they thrust of his outstretched hands. Yet his head (with his left arm) completes a counterclockwise spiral, making him a figure of conflicting vectors!
Counterpointing
This principle of the V can be taken further. In its most fundamental concept of what a vee is, it could be called the geometric manifestation of a "counterpoint" or simply "contrast." Whatever you chose to call it, you can counterpoint further elements of your composition, in addition to geometric forms. That includes light, texture, color, the gender of your subjects, the material vs. the spiritual, motion vs. no motion, etc.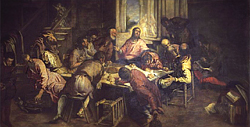 In The Last Supper and The Annunciation you will see the interplay of earthly beings counter-pointed with heavenly beings. Without this, the paintings would still be good, but they wouldn't be as interesting. And that is my main point.
The object is to make your displays as interesting as possible. In Tintoretto's day, the interplay of light and dark had a name: chiaroscuro. Check out The Finding of the Body of St Mark and you can see this very plainly. It adds a lot, and it is present in every one of his paintings.
Tintoretto achieved much of the light and shadow interplay by (as I mentioned earlier) building a small "set" or model, and holding a candle about it (a single light source) to examine in detail what he was looking for. He also held up a panel with a pin hole cut into it that the light could shine through.
This is a further technique I use often, which is "figuring it out as you go along, by actually testing various alternatives to work out what is best." You don't have to create displays in this way, however. I simply don't like trying to figure it all out in my head. I'd rather do if objectively, with the actual materials and tools in my hands. I do, however, have a general idea of exactly what I want before I start. So I'm mainly talking about the smaller decisions that must be made, as you proceed. Like "Where should I place the angel? Should she be above the crowd, or coming from the middle?" and I'll actually take the cut out, and hold it in various locations to see what looks best.
In a painting entitled Christ before Pilate, painted in 1566 to 1567, you will find motion con­trasted with no-motion. Christ stands perfectly still, while everyone else is in motion. As well, there is interplay of gazes. Christ looks fixedly at the basin of water where Pilate is washing his hands, sealing Christ's fate. Everyone else is looking elsewhere, and if you follow their gazes, you will see they go into a circle, or crisscross each other geometrically, following roughly our earlier rule about putting vees into the composition. It was a subtle way to do it.
How to use these tools
Creating a display is a very objective activity. It doesn't require a lot of thinking. It mainly requires looking. Looking at your subject, looking at the space where you will put the display. Looking.
And while you're looking, just have the desire that your display have lots of space. You'll start thinking of some ideas, and they naturally will have dimension.
Then, as you go to actually place the items in their place, you can keep in mind the rule, about making their axes vee in all three axes simultaneously. Much of this kind of thing gets worked out as you go along, actually assembling each item into the display. It's not the type of thing that slows or stops your action before you get going. It's the type of viewpoint that helps you decide what to do, that guides your decisions and speeds them up, while improving the art.
Good luck!
© 2008 by Steve Hall. All Rights Reserved. This work may not be reproduced in whole or in part, stored in a retrieval system, or transmitted in any form or by any means electronic, mechanical, or other without written permission from me, Steve Hall, except by a reviewer, who may quote brief passages in a review. That does not mean I will not grant permission for reproduction, especially for student use; simply contact me first. I am easy to reach. Readers
are

invited to link to this page.